Buffalo hunting or we can call 'BISON' as a resource for the peoples of North America for their food and basic materials prior to the animals near extinction in the late 19th century. There are so many organizations that offer buffalo hunting with a good discount on packages now a day. Hunting is done in so many countries where it is announced legal.
How to prepare yourself as a Hunter
Before hunting it's very important to prepare yourself in the right way. Not so many hunters get the chance to hunt buffalo (Bison) at any point in their lives. If anyone is lucky enough to do hunting so first prepare him for it properly. However, the hunter should wear the clothes according to the season when he goes for Buffalo hunting safari .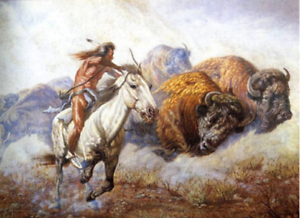 These are some tips to prepare you for hunting is given below:
Get your body into a good shape
Buffaloes are so heavy and massive creatures on earth as their weight maybe 600 – 2,000 pounds. For hunting its very important for a hunter having extreme energy in itself. Buffalo often move around and they can cover huge distances in a very short amount of time.
Choose the right clothes based on season
If somebody is going to hunt in dead of winter, he should put on as no. of layers as he can. The same goes for when you are going in the summer months. Make sure the weather will not be responsible to force you to go home early.
Keep a guide with yourself while hunting
For those who have never hunted before it's very important to keep a guide with them during hunting. As Buffaloes are very strong and speedy, the runner guide will help you to find buffaloes in that area. They will tell you the right way to hunting and will help you to get the right chance to hunt.
Medical considerations
There are some medical considerations to take when you are going to hunt safari.
U should take preventative measures against malaria and other vaccinations that are recommended by your doctors before a hunt. You should first be discussed with your doctor before going for the hunt and take all the precautions in advance for any situation over there.
Pick out a mature buffalo for hunting
If someone gets a chance for buffalo hunting it is also quite important to find a mature buffalo as it will give you so much fun also. As Bison are the largest native land mammals in North America they generally reach to their mature size at the age of 5 to 6 yrs. These animals are very intelligent and playful. Although they may seem gentle at times and sometimes their horns get quite aggressive.
Choose a good company and best package
Today there are several websites that offer you to register yourself in their organization and take packages. But u have to first find the right company over there among several which provide you the best service so that you can really enjoy the hunt. They offer several packages in front of yours but you should choose according to your convenience and looks best for you. It will better to choose a good package with a smart discount.